Management at Rosslare Europort, one of the country's key transport hubs, have insisted that they are ready for Brexit – whenever and however it happens.
Work is almost complete on a new border inspection post, located just outside the port itself, which will be used if new checks need to be imposed on incoming freight traffic from the UK, which should eliminate any congestion which might otherwise have been caused post-Brexit.
The inspection area is being developed by the OPW on a 17-acre site which will include facilities for Department of Agriculture, Health, customs and revenue checks.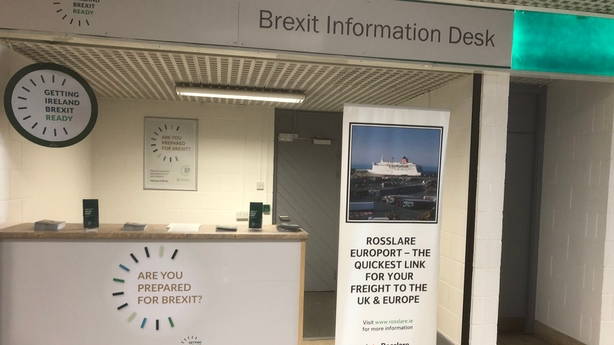 In the event of checks being deemed necessary after the United Kingdom leaves the EU, truck-drivers carrying freight from there into Ireland will be designated "red" or "green" before they arrive into Rosslare, depending on what they are carrying.
Green-designated trucks will leave the port area as normal, as they currently do, while red-designees will travel to the new inspection area where the checks will be performed, before carrying on their journey.
About 120,000 trucks pass through Rosslare Europort every year, with about 90,000 of those coming from the UK.
Many of those are carrying food or agriculture-related products, while there are also medications coming into Ireland through the port, as well as 25,000 new cars to be distributed at showrooms across the country, along with 50,000 tonnes of wood and 800,000 passengers.
Trade through Rosslare is worth about €11m in revenue to the Irish economy and management at the port believe this will increase in the coming years.
"We've been concentrating," port manager Glenn Carr told RTÉ News, "on the infrastructure and resources and ensuring we have the necessary process in place to facilitate trade in the event of a [no-deal] Brexit.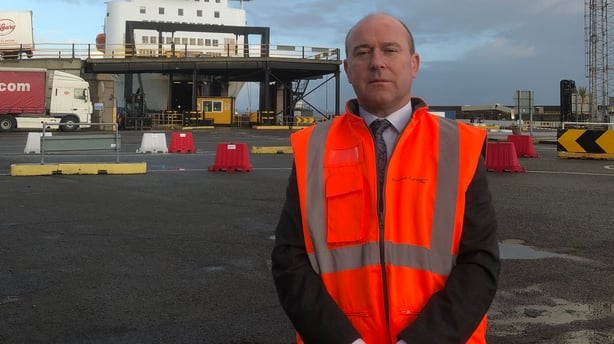 "There's also the commercial aspect, and the opportunities that we believe Brexit brings for Rosslare, particularly around direct services to mainland Europe. We've a good road network now, we're about 90 minutes from Dublin," said Mr Carr.
A no-deal Brexit is still possible, but they are "confident" in Rosslare that they will be able to handle any extra capacity that's needed, and that the new check system will remove the possibility of delays.
"The facilities we've put in place, the resources we've put in place with the relevant State agencies, have positioned Rosslare to be able to deal with Brexit in an orderly fashion."
Longer term, the port has a "master plan" in place for the next five years, with €25m set to be spent on reconfiguring the main area itself to increase storage and trade capacity and improve infrastructure and IT services.